"The Little Way"

At last I have found
my calling.
My calling is love."

St. Therese of the Child Jesus


Prayer to Saint Theresa De Lisieux
St. Theresa, The Little Flower,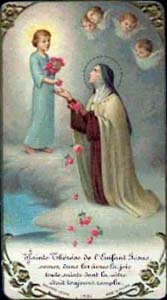 please pick me a Rose from the
heavenly garden and send it to me
with a message of love.
St. Theresa ask God to grant me
the favor I ask thee to implore
and tell Him I will love Him
each day more and more. Amen.
Say the above prayer followed by

5 Our Father's,
5 Hail Mary's
5 Glory Be's

for 5 consecutive days. On the 5th day
after completing these prayers
offer one more set of

5 Our Father's,
5 Hail Mary's
5 Glory Be's.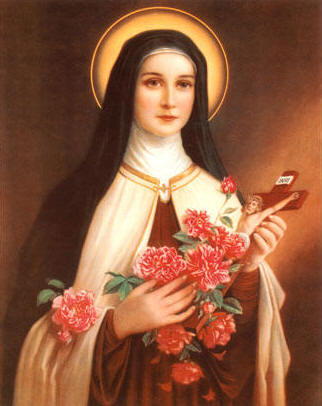 Sacrifice Beads
As a child, St. Therese had "sacrifice beads," which was a small string of beads to help her count the "presents" she offered to God. Each time she would make a sacrifice such as letting someone else have their way, St. Therese would secretly reach into her pocket and "pull a bead" to Jesus on the Crucifix.
Like St. Therese, these sacrifice beads in our pocket can help us to become more aware of offering "presents" to God all day long.
Make St. Therese's sacrifice beads for the children to count their "presents" or sacrifices for God as St. Therese did.

Encourage your family to put their sacrifice beads in their pockets each day, so they can "pull a bead" secretly whenever they make a little sacrifice, offering, or prayer to the Lord. When saying good night to each child, it will be helpful to share with them how you are doing with your sacrifice beads and encourage them to share some of their "presents" with you.

Together say a prayer to St. Therese and ask for her help and intercession as you embark upon this little way of doing little things for God because you love Him.




(Resource from the Intercessors of the Lamb, a Public Association of the Christian Faithful, located in Omaha, Nebraska)

How to make Sacrifice Beads
(Good Deed Beads, St. Theresa beads, One-decade Rosary)
I made these the other day and revised the directions to make it easy.

What you will need: <![if !vml]><![endif]>

Eleven (11) Pony Beads or whatever beads you would like to use.
Wooden beads would be the best.

One (1) Medal for the end
(A Miraculous medal is recommended)

One (1) medal, crucifix or cross for the other end

25″ long piece of cord/twine/string (Nylon or polyester recommended)

Burn the ends (makes the cord go into the hole of the beads much easier)

if you are using larger wooden beads increase the length of your string.

1. Put your medal at the bottom of the set of sacrifice beads on the string and pull it to the middle.

Take your first bead and pull the cord through the bead so that the bead and the medal are beside each other.
<![if !vml]><![endif]>

2. Take the cord and pull it through the opposite side of the bead, so that the string makes an X with the other string.

<![if !vml]><![endif]>


3. Pull both pieces of cord in opposite directions until they are tight against the bead. Tug at the cord until they are both same length when you place them on top of each other.
<![if !vml]><![endif]>

4. Pick-up your next bead and put one piece of cord through the right side of the bead and the other piece of cord through the left side

<![if !vml]><![endif]>

5. Pull both cords in opposite directions until the beads are right next to each other.

Repeat for the next 8 beads so that you end up ith 10 beads in total.
<![if !vml]><![endif]>

6.

Leave about 3 beads length and tie a double knot. Take

your last bead The Our Father Bead and string both pieces of cord through the same side of the bead and tie another double knot.<![if !vml]><![endif]>

7. Take your cross, Crucifix or medal and string both pieces of cord through the same side of the medal. Do a double knot so that the knot ends up touching the knot you made in step 6 (This will keep you cross or medal on more securely. Burn your extra cord off, cutting it will cause it to fray).

<![if !vml]><![endif]>


Start pulling beads and doing acts of love!