When you look for Jesus you will find Him holding His arms wide open for you!
Sacred Heart of Jesus

Most Sacred Heart of Jesus help me to Trust you
More today then I did Yesterday..

Litany to the Sacred Heart

Jesus promised: For where two or three have gathered together in My name, I am there in their midst. "Matthew 18:20

Upcoming Feast
Most Sacred Heart of Jesus
thank you for Your unconditional love, compassion. Your endless forgiveness and immeasurable grace that You pour down upon us and through Your Mother. Immaculate Heart of Mary...please stay with me always, Mother hold my hand...walk me closer to Jesus everyday. Amen


"Let the Children Come to Me"
do not prevent them; for the kingdom of God belongs to
such as these. Luke 18:16

To the Father, Son and Holy Spirit through the intercession of the Immaculate Heart of Mary,
help us this day...Amen

Immaculate Heart of Mary
Mother of God

"A Family That Prays Together
Stays Together"

Novena of Grace
Our Lady Of The Holy Rosary Novena Prayer

At the Cross: "Jesus said to his mother: "Woman, this is your son". Then he said to the disciple: "this is your mother" Jn.19:26-27.

| | | |
| --- | --- | --- |
| Our Father, who art in heaven hallowed be thy name; thy kingdom come; thy will be done on earth as it is in heaven. Give us this day our daily bread and forgive us our trespasses as we forgive those who trespass against us; and lead us not into temptation, but deliver us from evil. Amen | | Hail Mary, full of grace. The Lord is with thee. Blessed art thou amongst women, And blessed is the fruit of thy womb, Jesus. Holy Mary, Mother of God, Pray for us sinners, Now and at the hour of our death. Amen |
Upcoming Feast
Click on the picture of Holy Water
Lee with Heavenly Reflections has written a great and
important daily use of it in our lives.
O Mary, draw me all to God.

O my Mother, make me always have recourse to you.


Lamb of God who takes away the sins of the world, Have Mercy on us...It is for you to make me a saint. This is my hope. Amen
Lord, teach me to be generous. Teach me to serve you as you deserve; to give and not to count the cost, to fight and not to heed the wounds, to toil and not to seek for rest, to labor and not to ask for reward, save that of knowing that I do your will.
St. Ignatius' Prayer for Generosity

Jesus I ask for Precious Love & Blessings upon Micki and Kay
for their precious cards and blog...Amen


Image from
"Holy Cards for Your Inspiration"

A Child's Prayer to the Immaculate Heart of Mary


0 Virgin Mary, My Mother. I give to your Immaculate Heart, my body and my soul, my thoughts and my actions. I want to be what you want me to be, and do just what you want me to do. I am not afraid because you are always with me. Help me to love your Son Jesus, with all my heart and above all things. Take my hand in yours so I can always be with you.

I

mage from
"He Gently Calls Us" In honor of Mary and my love for her and Jesus. God's creation of flowers and their meanings, have touched my heart deeply...I have created a website in honor of
Our Precious Holy Mother.
Mary's Flowers of Love

Sweet Jesus thank you
for the Holy Eucharist.
I Love You





Dear Jesus, Please help me give you my heart each day...I pray I may only do your will...I surrender my self to you Jesus...forgive me and help me forgive others...Amen.


St. John the Baptist
Baptizing Jesus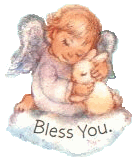 T
o all the Flowers who visited my site


More Prayers

Links
Father I ask a special blessing to my to special friends that allow me to express my love for You with their holy pictures.
A Prayer to Saint Michael


Saint Michael, Archangel, defend us in battle.
Be our protection against the wickedness and snares of the Devil.
May God rebuke him, we humbly pray;
And do thou, O Prince of the Heavenly Host, by the power of God,
thrust into hell Satan and all the other evil spirits
who prowl about the world seeking the ruin of souls. Amen.
-- Pope Leo XIII
Back to top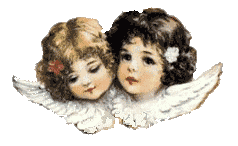 Thank you for sharing Jesus with me today.